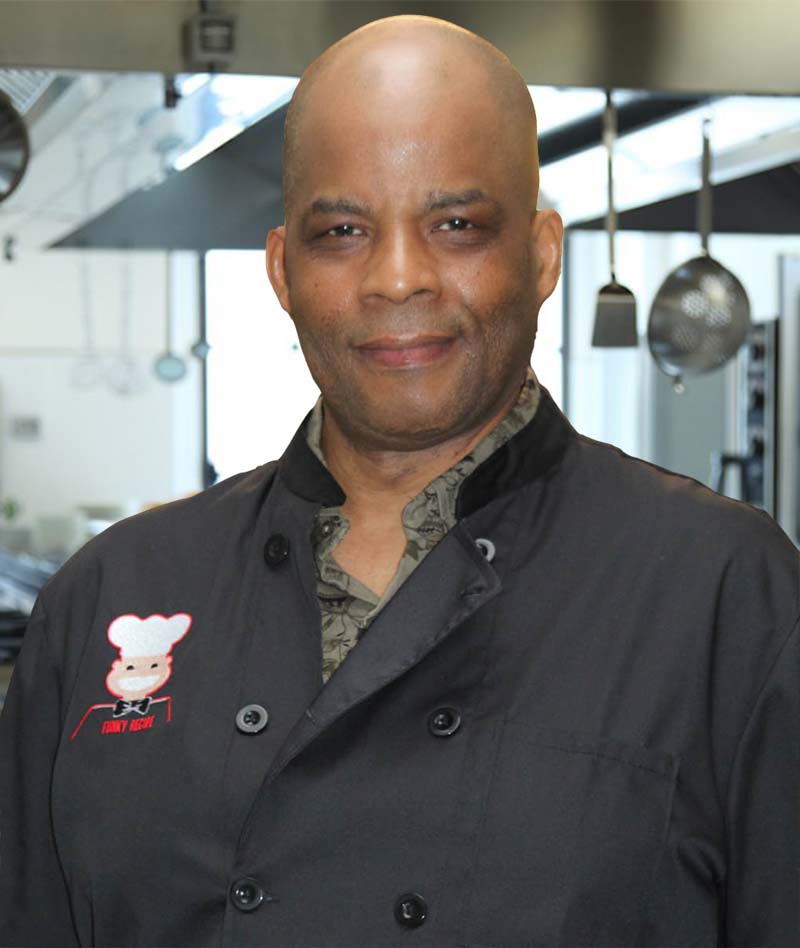 Funky
Recipe
was created to assist you in creating fantastic meals with less anxiety and more enjoyment.

My recipes and culinary advice help home cooks. I am crazy about "funky recipe" creations around here. 


"Don't Mess Around, Eat From the Ground"
About Funky Recipe
Myrin New founded Funky Recipe in 2013 as a place to chronicle his favorite recipes. He frequently "put his foot in it" (soulful jargon for exerting maximum effort) while cooking. Due to a fit lifestyle, his love of music, being a bass guitar player and hand percussionist, he uses the freshest local ingredients along with his inventive thinking, creating a partnership of nutritious meals inspired by the funk of the music. 

The music is "groovy." The meals are "solid." Since its start, Funky Recipe has grown into a resource for home cooks, attracting many visitors from all over the globe each month with recipes, tips, and videos. It helps to have the support of our social media friends who work in the food business as recipe developers, food journalists, product testers, and other sorts of creatives.
Cooking Videos Tips: Funky Recipe
Simple demonstrations to get started the right way on your way to preparing some Funky Recipes.

Cooking videos online are a cost effective way to increase your culinary knowledge and skills.

An inexpensive method of learning how to cook is through watching internet cooking videos. Cooking movies on the internet, in contrast to culinary school, do not cost a lot of money, and you may pick and choose the kind of films that are most appealing to you. Observing a cooking lesson may help you learn fundamental culinary methods, enhance your cooking talents, or discover a new cuisine.
GRAB THE #1 NEW COOKBOOK RELEASE:
DELICIOUS RECIPES FOR EVERY DAY
I believe in living and eating well even when you're in a hurry, and that's why I've written this book. In these pages you'll find the most inspiring, accessible and creative recipes – all brand new from lentil breakfast pancakes and freekeh porridge with poached pears, to stuffed and roasted red peppers.
Myrin New
Funky Master Chef